About Los Barriles
All the best that Mexico has to offer comes together in Los Barriles. A combination of superlative weather, natural beauty, culture and slower pace of life make this the perfect place to vacation or retire. You'll find the basics about the area below but you really must come and experience Los Barriles for yourself. Located just 40 minutes north of the San Jose de Cabo airport which is seviced by most major airlines. If you like Mexico and are looking for something more personal than the mega-resort feel of Cabo San Lucas, you'll love the small town atmosphere and sense of community you can find here in Los Barriles.
Location
The Mexican state of Baja California Sur occupies the lower half of the Baja California Peninsula from the 28th parallel to the southern tip or "Land's End". It is bordered by the state of Baja California to the north, the Pacific Ocean to the west, and the Gulf of Mexico, or "Sea of Cortez", to the east. Los Barriles is located on the eastern coast in an area referred to as Cabo Este (East Cape) about halfway between Cabo San Lucas and the charming capital in La Paz. Both those cities host international airports, the nearest (SJD) being less than an hour's drive from Los Barriles.
Geography
The amazing diversity of the landscape has given rise to equally amazing and diverse flora and fauna. Between the rocky coast on the Pacific side and the flat sandy beaches of the Sea of Cortez, you'll find Cardón filled deserts, ancient mango groves, and conifer covered mountain ranges. It is estimated that there are over 125 species of plants found only in this region. This area is extremely popular with bird watchers who seek out our 6 endemic species including the adorable Cape Pygmy Owl.
Of course, the two great bodies of water provide constant access to a wide array of sea life. Jacques Cousteau called the Sea of Cortez the "aquarium of the world." Whale watching is popular here and while you're on the water you are also likely to see manta rays, sea turtles, dolphins, and whale sharks.
Weather
With less than 10" of rain a year, Los Barriles easily qualifies as desert. However, during the fall it is not uncommon to get a good downpour that truly brings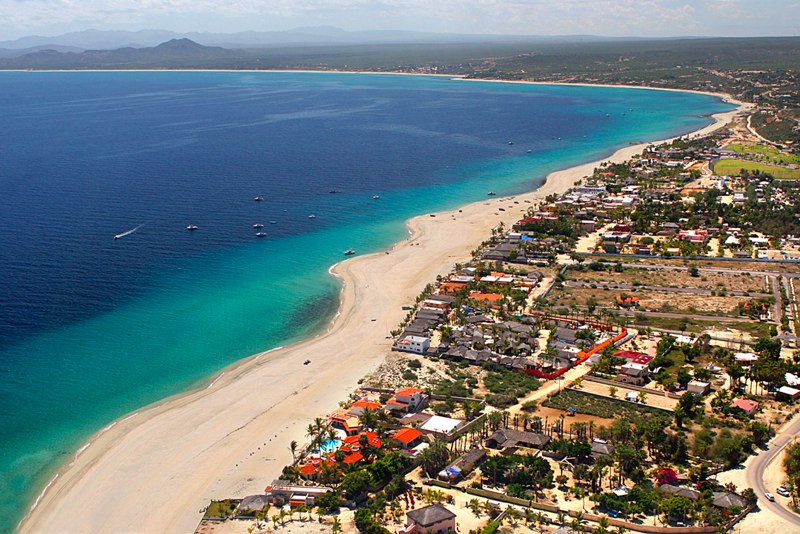 the desert to life. Temperatures average between 63º and 94º Fahrenheit making it comfortable year-round. We do experience a hurricane from time to time and precautions like hurricane screens should be taken during late October and September. Many residents use this time of year to visit family and friends in the U.S.
History
Shortly after the discovery of southern Baja by Hernan Cortez 1535 the missionaries arrived. A series of Jesuits, Dominican and Franciscan padres left a trail of rustic and beautiful missions leading up the peninsula. Many of these churches have been lovingly restored and are still active today. Rich mineral deposits also contributed to the development of Baja Sur and brought some interesting people to our remote locale. Now the local economy is fueled by tourism, especially our unparalleled sports fishing, though organic farming is gaining popularity and you can find wonderful mangos, dates, and avocados grown in the nearby town of Santiago.
Population
The population of the entire state is under 600,000, the largest city being La Paz. Cabo San Lucas and San Jose del Cabo (together referred to Los Cabos) are the second largest concentration with many part-time foreign residents. Los Barriles has a population of roughly 5,000 about half of which are locals
and half expatriates here full or part time. Many ex-pats are active in the local community sponsoring extra curricular activities, scholarship programsor participating in one of the local churches. These opportunities to get to know the locals truly enrich the living experience here.
English is commonly spoken but there are lots of opportunities to learn the local language with classes and private tutors.
Infrastructure
Electricity is reliably provided by the municipality at a very reasonable rate but our sandy soil means that erosion will occasionally interrupt the supply. Many people install generators for those occasions. Most properties also receive water from the municipality. Staying in touch is not a problem. Local phone service is readily available as is high-speed Internet access that supports voice over IP phone service. Highway 1 runs the full length of the peninsula and since it's completion in 1972 has been constantly upgraded. In the last year we saw the completion of bridges over all the large washes between Los Cabos and La Paz. This should keep traffic flowing even after a large storm.
You'll also find a full-size grocery store, fresh tortillas at the local tortilleria and if you didn't have any luck on the water, fresh fish at the local fish market. Dining options include everything from fish tacos under a shady palapa to gourmet Italian cuisine with linen table clothes. 2 banks with English speaking help, 2 gas stations, an Amerimed clinic, a dentist, hardware store and veterinarian are just some of the services that make this an easy place to live.
Activities

The pace of life is relaxed here. You can often stroll the beaches of Los Barriles without encountering a soul or head into one of the local hot spots to get caught up on the local news. There are many opportunities for socializing and supporting worthy causes. "The Guild" provides scholarships to local students, Amigos de Animales sponsors clinics for local pets,
and Univerde organizes regular Los Barriles clean-up days. We even have our own Rotary Club.
If you like the outdoors you'll enjoy the easily accessible and safe beaches for swimming, snorkeling, or kayaking. As mentioned earlier, birding is popular as is hiking, exploring on ATV's, mountain biking or horseback riding. Los Barriles is known for it's exceptional wind surfing and kite boarding conditions during the winter months. And, of course, you can take advantage of the world-class sports fishing and surf casting for which we are most famous.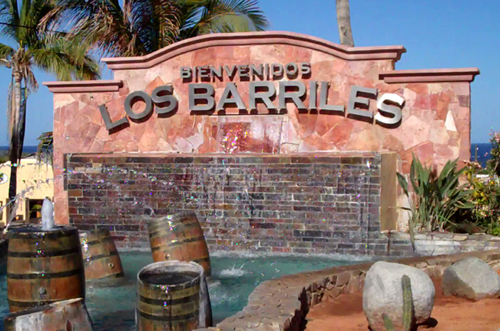 Here you can find a comfortable home base for your Baja adventures or an elegant retreat for family and friends. It's all here. You decide how far you want to leave the world behind.